I'm back!! Happy Wednesday!
Enter my latest giveaway HERE!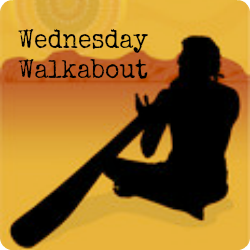 What is a Walkabout? It's a blog link-up party, every week here and with our co-hosts! Simply put your blog address or a specific post in the linky, visit some other people, and make some friends. Easy as that! I can't wait to talk to everyone!
You only have to link up with ONE of the co-hosts!
The Rules
1. Please follow at least ONE hostess, and let us know you're a new follower and how you follow!
Chantal – Scattered Seashells
Jane – Poppiness

Sarah – G.I. Joe's Wife
Jamie – Handling With Grace
2. Try to visit 3-4 blogs that interest you. Take some time and let them know where you came from.
3. Grab the button and spread the word! (Not required, but just cool if you do). The more, the merrier.