Hey all! I'm off enjoying R&R with Brandon!! Hope you enjoy a few guest posts!
I'm pleased to be guest blogging for Chantal while she enjoys some time on R & R with her husband. I'm currently (hopefully) picking up my husband, OccDoc, from his 7 month deployment to Afghanistan, so Chantal and I decided to swap blogs for the day! I'm normally blogging over at
the annoyed army wife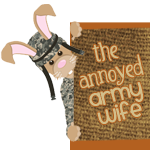 Any good MilSpouse knows when your spouse leaves for deployment/training/whatever Murphy moves right in with you ready to screw with your life. I was 100% prepared when OccDoc deployed in August. Murphy actually moved in early.
Two weeks before OccDoc left our beloved Keurig bit the dust. No more fancy coffee for us. I actually like grinding my own beans and the old coffee maker, so that wasn't too bad. OccDoc was traumatized, however.
The morning we had to leave for Colorado for our, what turned out to be 6 week, TCS (temporary change of station) before deployment, the washing machine busted. OccDoc spent the better part of an hour with a bucket bailing out the washer while I packed the car and ran around the house like a lunatic. We decided to get the water out and to just leave the washer busted until I got back. Our poor house sitter would have to trek to the laundry mat. Bummer for her. When I got back solo it took 3 visits from the repair guy and two weeks to finally fix the washer. I was mildly annoyed.
A week after the washer was fully functional our beautiful/expensive stainless steel microwave broke. I have no idea where the receipt was and couldn't even remember where we bought it. I chucked it and got a new, really cheap microwave. I had a coupon, so it ended up being a bargain. No biggie.
About a month later our power went out for longer than a day. I got nervous and tossed out some fish from the freezer. Nothing really broke, I just wasted some food.
My tire pressure light kept going on in my car. I took it the mechanic to 'fix' it, but nothing is wrong with it. Apparently it just does that. Whatever, I ignore it now. I fill up my tires every month just to be the safe side.
Before Christmas Mrs. S from
The Adventures of Mr. Superman and Mrs. S
was in town and came over to make some stockings. When I was giving her the grand tour we realized my basement was flooded. Stellar. Water heater (it's a rental home, thank goodness) was busted. Of course this happened on a Friday night, so the emergency water disaster clean up guy came over, set up some giant fans, and said the water had to stay off until Monday. I was thankful Mrs. S was over because he was freakin' scary looking. I ended up checking into a hotel for the weekend – I needed a bit of a break. The good news is that we got a brand spanking new water heater, so score one for us! A few things from our storage area got ruined, but that's okay we weren't really using them. It gave me an opportunity to declutter that area anyway.
Over Christmas while I was out of town visiting my parents my lovely housesitter sent me a text message saying she melted a metal teapot to our glass top stove. Oh joy. Turns out the teapot is destroyed. And the glass top stove has some pretty nasty chips in it on one of the front (of course) burners. I'm not sure what the damage is because I'm just avoiding using that burner. I'm sure we'll find out what it's going to cost when it comes time to move out and we don't get our security deposit back.
During a winter storm a giant branch of the tree in our front yard, which is easily 50 years old, broke off and missed our roof by about a foot. I left it in the yard so OccDoc could see what a close call it was. And so he can rent a chainsaw and chop it up since I know that's something he'd enjoy. Thank you, Murphy, for sparing us this time.
Approximately three weeks ago I turned on my defroster in my car and my entire windshield cracked all the way across. Excellent. I have yet to fix that. Mainly because I don't want to drive to the nearest Army post 47 miles away to get a new DoD decal and also because my neighbor said not to get it replaced until the weather is nice or else I'll have problems down the road. What so I should procrastinate more? Done and done! On the plus side some of my readers said the windshield guy might be able to get the sticker off the old windshield and put it on the new one sparing me the trip!
That's it so far. The important thing is that OccDoc is healthy-ish and has stayed safe during this deployment, I'm healthy, and all of our pets are healthy. The house could crumble around us, but as long as we're still standing it will be okay. Although I am waiting to see what Murphy has in store next…